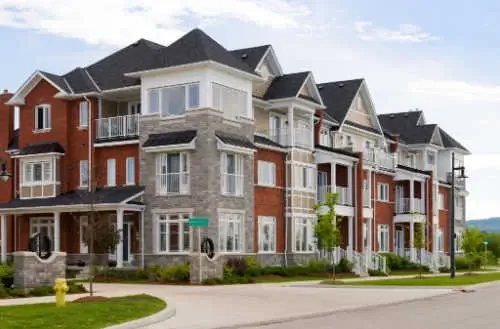 Not all homeownership looks like a single-family home with a white picket fence. There are all sorts of property types to help Americans realize the dream of becoming a homeowner. Condominiums, also known as condos, can be the perfect option for those who want their own place without the maintenance that comes with yards and large spaces. Their typically smaller price tags also make them a great choice for first-time homebuyers breaking into the mortgage market. 
If you've decided to go the condo route, there are a few more rules and restrictions associated with living in a more communal setting. Here are five crucial questions to answer before you make your purchase.
What is included in the condo association rules?
Every condominium is run by an association that handles things like the property landscaping, common spaces, and building heating and cooling systems. Each association also has the power to make their own rules for life at the condos. For example, some may not allow dogs, others may have restrictions on the number of guests that can stay over or what time parties need to be finished by. It's important you feel you can abide by all the rules before you get into a contract.
How much are the association fees and what do they cover?
It's essential to know how much your monthly, quarterly, or annual condo association fees will be so that you can build them into your mortgage and housing costs. Depending on the property and array of amenities, association fees can be several hundred dollars. A recent survey from Zillow found that the average monthly condo fee in the U.S. was $290. However, those can also go up over time. They typically cover the following: common area maintenance and insurance, security, reserve funds, water/sewer charges, trash, Internet, reserve funds, and maintenance of amenities like pools and tennis courts. It is best to go over your condo's list to make sure there are no hidden fees you'll be responsible for as a homeowner.
Do I need to buy homeowners insurance?
The condo association will typically have insurance for the building and land, but your unit's contents and liability would not be covered by that policy. A typical "renters' insurance" policy would protect you from damage to anything or anyone inside your condo.
What is the ratio of owners to renters?
If your condo allows for renters, it's helpful to know what the percentage of resident owners vs. renters is. Your investment depends in large part on the condition of the entire property. Renters have less stake in maintaining the property value of the condo than do committed owners, so buying in a building with a high owner-occupancy rate could protect your investment. Also, in some cases mortgage lenders will deny your loan if the renter percentage is too low.
How much money is in the reserve funds?
Each condo association keeps a nest egg of money to take care of larger or unexpected repairs. For example, at some point the roof will need to be replaced or the pool may need to be resurfaced. If the association has plenty of reserve funds the likelihood decreases of you being charged a special assessment to help pay for those things in the future. In general, there should be roughly 10% of the annual budget held in reserve for condos built less than 10 years ago, and 25% for older communities.
Buying a condo can be a smart financial and lifestyle choice. Just be sure to do your due diligence to protect your investment and make it a home you can enjoy for years to come.
If you or anyone you know is thinking about buying a condo, please give us a call! We pride ourselves in helping buyers save money whenever they purchase a condo or new home.
These materials are not from HUD or FHA and were not approved by HUD or a government agency.